As things come to a close with the creation of the record, we still have a few more things to take care of before we mail this thing out on Monday!
While Travis works on mastering the record we needed to take photos for our album art! Turns out that not only does the CD have to look cool (even though everyone will just dump the songs onto their Ipods) but we have to look cool in it!
We really wanted to have a band picture inside the booklet, but didn't want to go the traditional route. So to fit with the rest of our design concept (which we're loving!) we decided to build a green screen in our living room so that our designer, Amanda, could take the background out of the photos and put us wherever she pleased.
So when it came time to build a green screen, what more do you need than green poster board and green duct tape?
Here are some photos from the night that I captured on my phone. They're low quality, but it's better than nothing, right?
I will try to get pics of interesting events more often!
First, we attempt to build the green screen: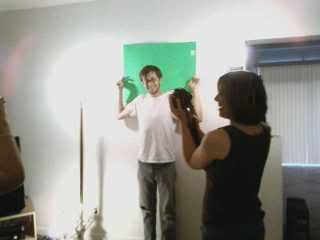 Bert tests the lighting and searches for his shadow:
Bert is the guinea pig.
Doug is the second victim: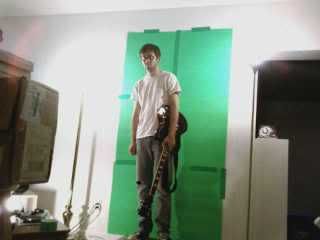 JoAnna has a very light instrument:
Now imagine a picture of me right here.
Looks like you'll have to wait to have the CD in your hands to see how the pictures of me came out!
This should be some proof that this record is indeed happening.
I heard something about our first single being released on the internet sometime late this week. It could just be a rumor. Who knows.