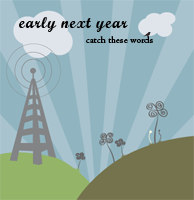 The record is officially at the duplication plant!
We sent our baby off to the presses on Monday and now we just have to sit and twiddle our thumbs while the professionals make everything look amazing.
Tomorrow evening we are playing a show at The Liquid Cellar near UCF in Orlando to throw some of our newer material out there and to hopefully make a little bit of buzz regarding our CD release show coming up on June 30th at Back Booth.
Our pals Pop.Culture.Clash and Words Now Heard will be joining us tomorrow, so it's looking to be a fun evening. The Liquid Cellar is definitely a venue/bar in which we got our "start" so it's definitely nice to back once in a while to remember where we've been.
We've unleashed our new single,
The Sick Charade
, on our PureVolume and MySpace pages, and we intend to add yet another new track in the coming days. We need to prove that there is more than one awesome track one this CD!
More news on our release gig as we have it.