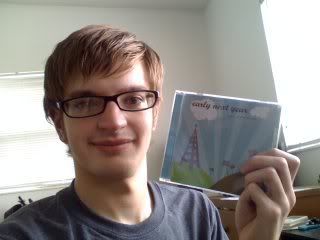 Well, the new disc, "Catch These Words", arrived last Thursday, just in time for the first CD release show we had that Saturday in Ocala, Florida.
All of the new material seemed to go over very well and we are happy with the way we played and how the new songs were received. We will play our second CD release show this Saturday in Orlando at Back Booth. Also on the bill will be our heroes, Inkwell. The day before (Friday, June 29) we will do a quick radio interview on WPRK 91.5 around 3pm. It can also be hear online, so head on over to
http://www.wprkdj.org
for details on how to listen online.
This whole process has been very long and rough, so I lost my will to blog for a while. Hopefully it will return to me as the CD release shows come and go and the record "does it's thing."
Remember, the official release date is July 3, but the cd is currently available at our shows and at Park Avenue CDs (both the main location and UCF branch). We will start taking pre-orders online shortly at the
ENY Webstore
.
All the best!