What we have here is the year 2007.
What will ENY be doing during these upcoming 365 days of the new year?
For one, we're going to do everything in our power to record and release a new CD. It's that time. Lately, while playing live, we've been totally skipping over the old songs and are playing 80% new material and we're happy with how those songs sound.
We're also going to try to hit up some new markets and revisit some old. Ocala friends, we'll be back soon but we're also going to attempt to make new friends in towns like Jacksonville and hopefully even return to the Tampa area. For the most part, we are concerning ourselves with the Orlando area trying to build some buzz.
We got to play a great New Year's Eve show at Back Booth with a lot of great bands. We also made it a point to get our CD into the hands of as many people as we could. It was our Christmas present to the crowd.
I spent a week in Ohio. A week without snow for once. Bert, Doug, and myself even got together and played an acoustic show at an Ohio coffee house. It was something we had talked about doing for a while but never got around to, so this year Bert made some calls a few days before we left and the coffee house agreed to host the event. Good thing too since we completely packed the place with friends and family. We got a small article in the local newspaper and apparently word got around. I saw people that I hadn't seen in five years, so it was a little bit show, a little bit reunion, but fun all the way around.
Our first out of state show and JoAnna was in California. She missed a good one.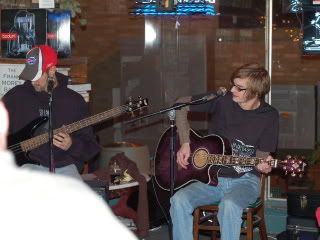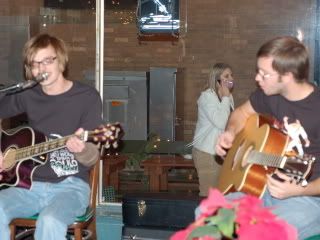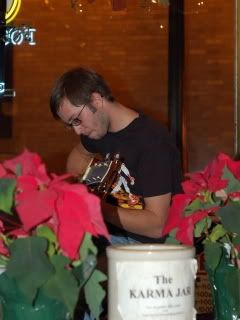 Happy 2007.